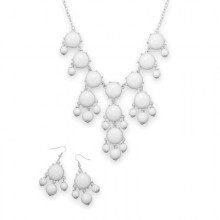 White Bubble Necklace
-20″ + 3″ extension silver tone metal and bubble bead style necklace
– The center section has three 19mm beads with 13mm and 9mm bead drops, and hangs approximately 3.75″.
-The pattern graduates up to a 19mm bead with a single 9mm bead drop.
-The necklace has a lobster clasp closure.
-The matching french wire earrings have a 19mm bead with two 9mm beads and one 13mm bead drop.