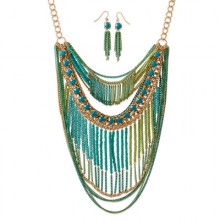 Turquoise & Lime Green Necklace Set
-16″ + 3″ extension gold tone multi strand blue and green bib style necklace.
-The turquoise blue and lime green beads range in size from 2mm – 7mm.
-The bib area measures approximately 6 1/4″ x 7 1/4″.
-The matching gold tone earrings have dark green and lime green chain dangling from a 7mm turquoise blue plastic bead.
-The earrings hang approximately 2.25″.